Anhydrous Milk / Fat Butter Oil Plant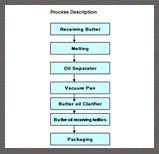 Anhydrous Milk / Fat Butter Oil Plant
Product Description
Backed by our rich industrial experience and top class management staffs, we have managed to become one of the leading manufacturers and suppliers of Anhydrous Milk / Fat Butter Oil Plant. It is widely used in dairy industries for production of anhydrous milk or fat butter oil. This oil is extensively used for making different types of ilk products like butter, ice cream, and cooking medium. This plant is manufactured using qualitative components and latest technology at our sophisticated production unit. The whole manufacturing process is presided by a team of deft professionals to deliver a flawless range of products. Offered Anhydrous Milk / Fat Butter Oil Plant is delivered to our clients after proper checking and inspection on well defined parameters.

Anhydrous Milk / Fat Butter Oil Plant
Butteroil is the fat concentrate obtained primarily from butter or cream by the removal of practically all the water and solids not fat content. The terms milk fat and anhydrous milk fat, dry butterfat and dehydrated butter fat are used synonymously with butte roil but the raw material used for their preparation is mainly cream. Butteroil serves as a richest source milk fat amongst the western dairy products and is rich in fat soluble vitamins like A, D, E and K.

Butteroil is usually used in the production of recombined milk, for reconstitution into butter. It can also be used in the manufacture of ice cream, as a cooking medium and in the confectionery industry. Butteroil is also utilized in the production of various types of fat spreads.