Falling Film Evaporators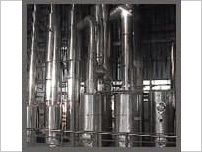 Falling Film Evaporators
Price And Quantity
Product Specifications
Product Description
We have been serving our respected clients since 1998 by manufacturing and supplying excellent quality Falling Film Evaporators. They have a shell and tube heat exchanger and liquid in these systems is distributed and fed inside tubes of calendars thus creating a uniform film. Offered evaporators are mostly used for concentrating solutions mainly with use of heat sensitive components. Widely used in various pharmaceutical industries, our range is appreciated for numerous attributes like easy evaporation processes, thermal resistivity, trouble free operation, and high resistance against chemicals. Falling Film Eaporators are delivered to our clients after proper checking and inspection on well defined parameters.

Falling Film Evaporators
Falling film evaporators are designed by FBE with special care to meet a wide variety of specifications and duties of the final products. Having installed number of units worldwide during the last decade, FBE has acquired substantial experience and knowhow to comply with customer requirements

Salient Features of Falling Film Evaporator


Liquid distribution is through distributor plates placed at top of calandria.
The film is going with gravity.
Thinner film formation throughout the tubes.
Shorter product contact time.
Concentration of highly-sensitive materials.
Can be operated at much lower del T.
The lower del T is favorable to vapor recompression and consequently the energy consumption is low.
Concentration level can be achieved upto 45% TS.
Useful for the concentration of milk, fuit juice, malt etc.
FBE designed falling film evaporators, especially for dairy industry feature items such as:
Adjustable and controllable direct contact heat treatment units.
Shortest possible residence time
Special design to prevent bacteriological growth including thermophiles.
Special design of liquid distribution systems to ensure correct tube coverage
Extended tube length
Efficient design of separators