Paneer/ Khoa Plant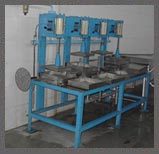 Paneer/ Khoa Plant
Product Description
With a vision to be a pioneer in our domain and establish ourselves as a brand, we are actively indulged in manufacturing and supplying excellent quality Paneer/ Khoa Plant. It comprises of a milk heating system, equipment for milk coagulation, and paneer press/cooling equipment. This plant is highly appreciated among our clients for its numerous qualities like rugged design, easy operation, and low maintenance requirements. We are giving this plant to our customers after checking it properly for dispatching a flawless range. Our professionals keep in mind all prevailing industrial norms and standards while making this Paneer/ Khoa Plant to ensure that our clients get supreme quality products from us.
Paneer/ Khoa Plant
Paneer: Paneer otherwise known as paneer or panir is a pressed variety of channa obtained by acid coagulation of milk at about 85C followed by removal of whey and pressing. As per the PFA rules (1976), it should not contain more than 70 percent moisture and the milk fat content should not be less than 50 percent of the dry matter.

Khoa: Khoa is a partially dehydrated whole milk product prepared by desiccation of milk to 65-70 percent total solids in an open pan. Milk contains nearly 83-87 percent water; in order to increase the concentration of milk, water is evaporated from the milk by boiling. Khoa is used as a base material for the preparation of variety of sweets like burfi, peda etc.

FBE supplies complete range of equipments for manufacturing Paneer and Khoa. We design and fabricate equipments like steam jacketed stainless steel pan, Paneer press, hooves, chilling vat, cutting knives etc for Paneer manufacturing and Khoa Pan, continuous khoa making machine, mould etc for khoa manufacturing.
Product details
| | |
| --- | --- |
| Material | Stainless Steel |
| Brand | F & B Engineer |
| Phase | Three |
| Finishing | Polished |
| Frequency | 50 Hz |
| Voltage | 420 V |
| Equipment Type | Paneer Coagulation Tank |
| Automatic Grade | Automatic |