SMP/WMP/ Dairy whitener Plant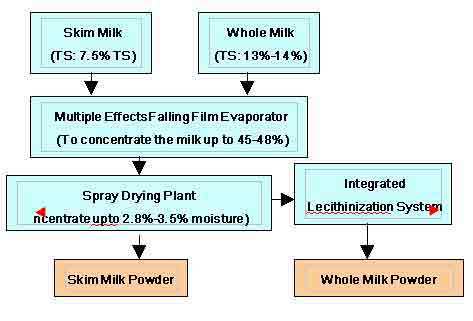 SMP/WMP/ Dairy whitener Plant
Price And Quantity
Product Specifications
Product Description
Ever since our establishment in 1998, we are engaged in manufacturing and supplying excellent quality SMP/WMP/ Dairy Whitener Plant. It is widely used to make dried milk powder from liquid milk. In this plant, machines remove water content from the milk by heating it and then produces skimmed milk or whole milk as per processing. This plant is highly appreciated among our valued clients for its long functional life, rugged construction, and low maintenance needs. We have hired a dedicated team of quality analysts who are in charge of checking and inspection of this SMP/WMP/ Dairy Whitener Plant. Thus, we assure that our clients get a flawless range of products from us.

SMP/WMP/ Dairy whitener Plant
Dried milk powder is the product obtained by the removal of water from milk by heat or other suitable means, to produce a solid containing 3.5 % or less moisture. Whole milk, skim milk may be used for drying. The dried product obtained from whole milk is called whole milk powder; from skim milk is known skim milk powder.
| | | | |
| --- | --- | --- | --- |
| Sr. No | Powder Specification for Agglomerated Powder | SMP | WMP (Lecithinated) |
| 1 | Fat | <1 % | >22 % |
| 2 | SNF | >96 % | 75.2% |
| 3 | Moisture by mass | <3.5 % | <2.8 % |
| 4 | Sugar | NIL | NIL |
| 5 | Insolubility Index | 0.2 ml | 0.3 ml |
| 6 | Bulk Density | 0.4-0.5 | 0.4-0.5 |
| 7 | Scorched Particle | Disc A | Disc A |
| 8 | Wettability at 49C (after 72 hours of storage) | <30 sec <30 sec | <30 sec <30 sec |
| 9 | Dispersibility (min.) % | 85% | 85% |
| 10 | Free fat | NA | <1% |
Salient features of FBE Make Evaporators
Adjustable and controllable direct contact heat treatment units.
Shortest possible residence time.
Special design to prevent bacteriological growth including thermophiles.
Special design of liquid distribution systems to ensure correct tube coverage.
Extended tube length.
Efficient design of separators.
Low energy consumption (Steam, Power, cooling water).
Easy operation.
No scale formation in tubes.
Salient features of FBE Make Dryers
Good plant performance due to the absence of any air flow obstruction inside the chamber
Good agglomeration potential.
Instant quality of powder is formed.
Higher plant capacity for a given size.
Low energy consumption.
Alternate arrangements of Rotary atomization or nozzles in the same dryer
Used for the whole range of dairy products as the SMP, WMP, DW etc.
Single stage spray dryer and Spray dryer with IBD and VFD shall be used alternately in the same plant
Fines-return to atomization device or VF
Pneumatic cooling and conveying system in stead of VF
Pneumatic cooling and conveying system in stead of VF
Air exhaust through centre duct in the chamber.
Advantage of Lecithinization system
Lecithinization system is integrated with Spray dryer to manufacture Whole milk powder.
The lecithinization refers to the coating of powder by a wetting agent consist of lecithin dissolved in butter oil. The wetting agent is sprayed to powder under fluidization in VFD, so that good quality of WMP s produced with it.